WATERinMOTION®, the premier aquatic exercise program, receives the first-ever endorsement from SilverSneakers® the nation's leading community fitness program for older adults. This is the first program SilverSneakers® has endorsed in its 25-year history emphasizing the impact and importance of WATERinMOTION® aqua fitness education for older Americans.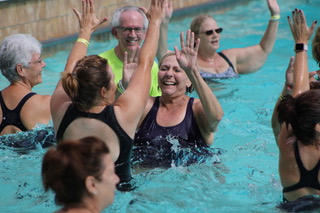 Sara Kooperman, JD, co-founder, and CEO of WATERinMOTION® shared that: "WATERinMOTION® is honored to be working with SilverSneakers® and excited to begin this journey with the most respected and well-known Active Aging Organization in the World. Being the first-ever endorsed fitness and wellness program, WATERinMOTION® guarantees to stay true to the goals and standards of SilverSneakers®. I am truly touched that they have faith in us!"
The endorsement comes as the latest accomplishment in a series of awards and recognition for WATERinMOTION® including winning the Aquatic Exercise Association's Global Award for Contribution to the Aquatic Industry.
WATERinMOTION® began nine years ago and has since become a leading aquatic exercise program with more than 16,000 aquatic exercisers daily guided by 400 certified fitness professionals in more than 200 facilities nationwide.
Visit WATERinMOTION.com to learn more about WATERinMOTION® Original as well as the newest program, WATERinMOTION® Platinum which caters to the specific needs of the booming 65+ market.
Find WATERinMOTION® at an SCW MANIA® conference near you (www.scwfit.com/MANIA/). Check out this short video to get a sample of a WATERinMOTION® Platinum Digital Release Kit. Watch the warm-up video, download the music, and view the choreography notes to experience the new wave in aquatic exercise.
About WATERinMOTION®: WATERinMOTION® is a pre-choreographed, quarterly-released group aqua exercise program that refreshes the moves, music, and member experience every three (3) months by delivering a new choreography video, 55 minutes of downloadable music, complete choreo booklet, flashcards, and a one (1) page choreo quick guide. In addition, the program also provides stellar banners, posters, and marketing kits. WATERinMOTION® includes a comprehensive certification (both live and online) featuring leaders with over 100 years of combined teaching experience guaranteeing safety, structure, and creativity in EVERY class! Check out www.waterinmotion.com to learn more.
About SCW Fitness Education: SCW Fitness Education has been in business for 34 years and is the largest provider of continuing education conferences for fitness instructors with nine (9) regional shows (MANIA®) every year reaching over 10,000 fitness professionals in face-to-face contacts, and another 200,000+ in virtual reaches annually. During MANIA®, we have 17 sessions running per hour on all different aspects of the fitness/wellness industry (Functional Training, Cycling, Mind/Body, Dance, Nutrition, Recovery, etc.). SCW is unparalleled in its provision of certifications, continuing education courses and conventions to fitness professionals in multiple disciplines both live and online. For more info visit www.scwfit.com.