---
May, 2020
Stay up-to-date on all things aqua!
---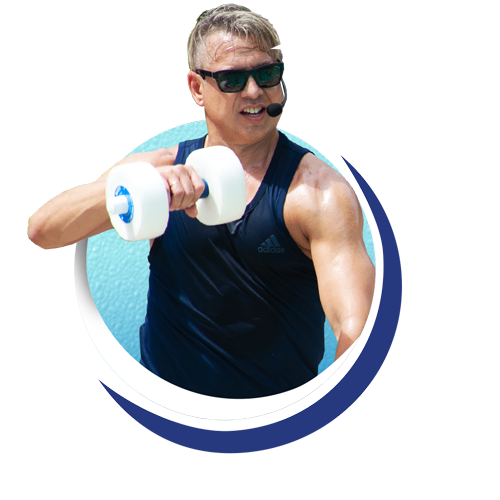 ---
New Strength Program for Aqua
by Robin Taylor
As our gyms slowly re-open from their Covid-19 closures, the group exercise and fitness rooms are the first to see members comeback. Pools have their lap swimmers again, but aqua classes seem to be the last to resume. With that being said, this is the perfect time to learn some new techniques and upskill your training. Various new formats are being introduced into the aquatic environment.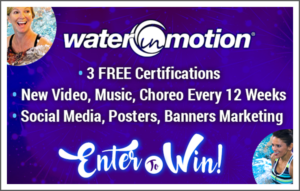 Land Barre classes have been wildly popular and are now being crossed to the pool. Programs like Aqua Barre, Barre H2O and Barre-A-Cuda, teach aqua instructors who have little or no knowledge of Barre, how to help their participants lengthen and lean their arms, legs and torso. Tabata is another well received format. This type of high intensity interval training class works with intermittent bouts of movement and rest, strengthening the cardiovascular and muscular systems. Jeff Howard, a Trainer and Presenter for SCW Fitness Education, created several new workouts with this format, but transitioned them into the pool. Tab-Aqua Quickies and Tab-Aqua Power teach this HIIT format adjusted for the resistance of the water. Pool attendees of all ages and levels will finish these workouts with feelings and emotions of exhaustion and pure satisfaction, knowing they have accomplished an intense workout without the impact on their joints.
Anyone who has ever exercised in a pool knows that no matter what exercise is performed, all the muscles in the body kick in for stabilization. Every move in the aquatic environment creates some kind of contraction of the muscles. Usually the lower body is the main focus for most water exercise classes since that is the part submerged. The arms are then added to counteract the legs. The more forceful the movement, the greater the muscle use.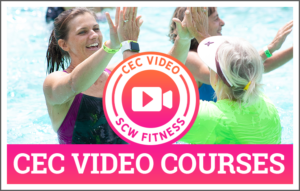 The creators of WATERinMOTION® are excited to announce their newest program, Strength, adding it to the already popular Original and Platinum formats. The purpose focuses on muscle endurance, power and overall toning in a 45-minute workout using aqua dumbbells. This groundbreaking workout uses the properties of water to build lean muscle through the creative use of drag, resistance and buoyancy. Exercising in water minimizes the strain of gravity on the joints and ligaments to prevent overuse on the muscles while enhancing recovery time and improving flexibility and power.
The participants, ranging from individuals new to strength training all the way to conditioned athletes, will benefit from this new Strength program. As a high intensity, low impact workout it is comprised of short rounds of intense work to develop and maintain muscular and cardio endurance. Dynamic music mixed with unique choreography create an exciting, challenging, well-balanced exercise program.
Adding such a unique strength training program will attract new populations into the pool drawing in extra income and maximizing their pool's potential. Aquatic Managers and Pool Owners will be amazed at the changes this revolutionary new program will create in their membership and revenue.
WATERinMOTION® Strength is a one-of-a-kind licensed, pre-choreographed program which provides a low impact, high-energy aquatic workout for all ages, skill and fitness levels. Jump in, grab your aqua dumbbells and make a splash with this dynamic strength exercise program that tightens and tones the entire body.
For more information about SCW Fitness Education videos go to www.scwfit.com/OnDemand and WATERinMOTION® Strength visit www.WATERinMOTION.com or email [email protected].
---
---
---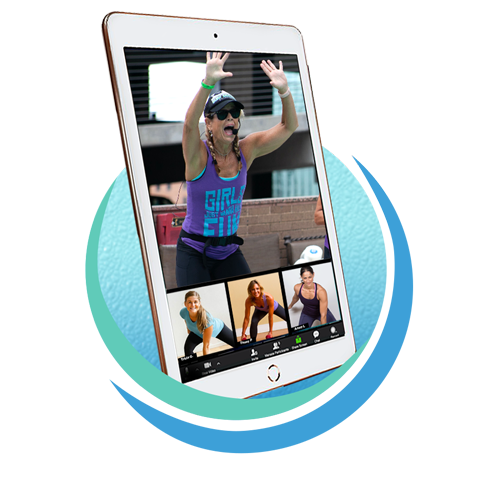 ---
Online Education: The "New" Way of Learning
by SCW Fitness Education
Almost everyone is familiar with some form of online education; read the material on your own, maybe watch a video and take a test. With recommendations changing by the day, today's fitness industry professionals must adapt to those alterations, especially while we stay home waiting to resume teaching our group ex classes and working with clients. We have to be creative with our current skills and devise a plan to enhance our knowledge for the future. How will we earn our CEC's? How will we acquire new ways to work with our members and customers? How can we learn the latest fitness moves, formats and workouts? Meet today's "new" way of online education-LIVE! With 16 aqua specific sessions, totaling 20 hours of education, live streaming from the presenter's homes to yours in real-time, we have the solution.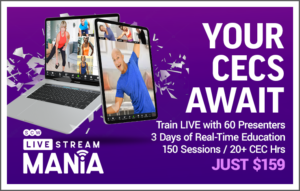 Live Stream MANIA® is powered by ZOOM and brought to you at a location of your choosing. SCW Fitness Education created this new form of online education after cancelling two recent MANIA® Fitness Conventions due to restrictions of Covid-19. This unique innovative, fully interactive face to face (computer) LIVE format was created for Fitness Professionals to earn CEC/CEU, upskill techniques and return to physical face to face classes at gyms and studios with new and exciting material.
Participants will join in real-time training over three days with more than 60 remarkable presenters, 150 sessions (9 every hour) while earning 20 CEC's/CEU's from providers like AFAA, ACE, NASM, NASM, AEA and more. On top of the LIVE streaming sessions, pre-recorded session videos are available to view at their own leisure during the weekend and continuing for an extra three day. The sessions are broken into categories including HIIT/PT, Group Exercise, Active Aging, Recovery Programs, Yoga, Barre, Pilates, Aqua and Nutrition. Also included is the SCW Health & Fitness Business Summit geared to Club and Boutique Owners, Managers and Directors. Lastly Indoor Cycle classes are being offered by Schwinn, one of the eight businesses sponsoring the event.
The event couldn't take place without sponsorship. Sponsors include BOSU, CORE Health & Fitness, MashUp, LaBlast Fitness, TaijiFit, Motosumo, WaterinMotion® and Women in Fitness Association. Many sponsors are offering specialized workshops included in the price of Live Stream MANIA®. Some are offering sale pricing on equipment to help enhance the Live Stream MANIA® experience. Sponsorship and partnership opportunities are still available. For more information contact us at [email protected].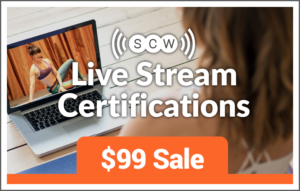 Live Stream MANIA® takes place Friday, May 29th through Sunday, May 31st and promises to be the opportunity and interaction fitness professionals and business owners have been seeking for their fitness education needs. Participants can choose their workshop of choice with no session selection required! For only $159, a savings of $100 (was $259), attendees can join into any streaming session LIVE as it is happening in the safety and convenience of their own home. They train on their own time, own device (computer, tablet, phone) and in their own space. For more information and to register for Live Stream MANIA®, visit our website at www.scwfit.com/LiveStreamMANIA.
For those not seeking continuing education, but knowledge about how to handle the daily changes and recommended guidelines, SCW Fitness Education is also offering a FREE Webinar Series to help keep up with the do's and don'ts of the current situation. These weekly online panel discussions, led by Sara Kooperman, JD, CEO of SCW Fitness, touch on subjects ranging from Re-opening Your Pools to Social Media to Program Creation: Past, Present & Future (with our WATERinMOTION team).
SCW's vast network of the top fitness experts in the industry bring you pertinent information directly to you at home. "We're talking about what fitness pros want to know right now. They want to know what the next few weeks will look like, they want to know what the "new normal" will be, and they want to know what they should do financially. Those are questions we can answer and will." states Kooperman.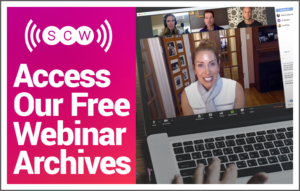 It's more important than ever for fitness pros to stay focused and hone their crafts. These are difficult and challenging times for all of us. In a world where we're constantly surrounded by distractions and negative feelings, remember that this may be the only point in time during our careers that we've been given the gift of time. Time to focus on ourselves, our careers and our path to the future after this is all said and done. Welcome to LIVE Online Education.
For more information about Live Stream MANIA® and our FREE weekly educational Webinars please visit our website. www.scwfit.com/Online
---
---
---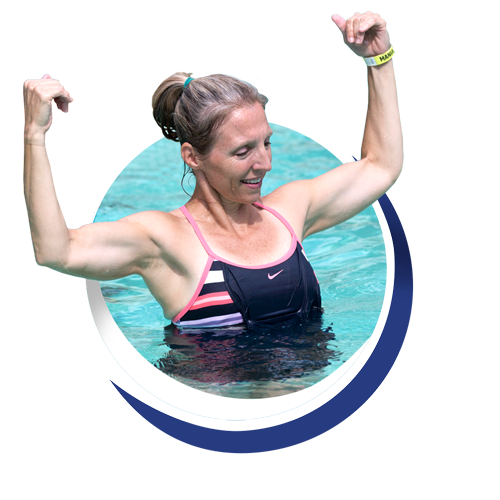 ---
What's Up With Upper Body?
by Connie Warasila
During the excitement of teaching aqua classes, we might misspeak while in an enthusiastic hurry to educate our clients. You may have instructed forward when you meant back, right when you meant left, or triceps when you meant biceps. It happens to all of us. In an effort to clarify the muscular cuing that we advise instructors to use during the second repetition of the choreography, this article will review some of the muscles of the upper body, their locations, their purpose, and some exercises used in many aqua classes to target those muscles.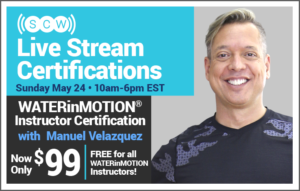 You may be wondering why I've decided to focus on the upper body, considering its the lower body muscles which are the primary movers used to increase heart rate and contribute heavily to caloric expenditure. I find many instructors are more familiar with and confident about exercising the lower body muscles. Admittedly, the lower body deserves our initial attention. The upper body movements are complementary to the main movement of the lower body and sometimes are forgotten in our instructions. That's unfortunate because the addition of strong, upper body movements contributes to upper body strength, flexibility, gains incoordination, and enjoyment of exercise.
Surprisingly, adding upper body movements to lower body movements does not drastically increase overall caloric expenditure. According to the article "Making Sense of Calorie-burning Claims" by Robert A. Robergs, Ph.D., and Len Kravitz, Ph.D., "When upper body exercise is combined with lower body exercise, the increased heart rate and RPE response does not necessarily reflect a significant increase in caloric expenditure." They attribute this to the circulatory system's responsibility to provide oxygen to both upper and lower body, decreasing the amount of oxygen available for lower body work, the biggest contributor to overall caloric expenditure.
Of course, for clients that may have lower-body, orthopedic limitations, adding the upper body movement may be critical to maximizing caloric expenditure since they may not be able to intensify their lower-body movements to use all available oxygen. The goal is not only caloric expenditure. We strive to increase strength, flexibility, and fitness and skill levels, all while having fun.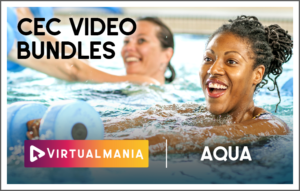 So, do we need to concentrate on giving the upper body some attention? I say, "Yes." After establishing the move (lower and upper body, during the first repetition of the choreography) instruction can progress to muscle usage. Focus can be on lower body muscle usage at first, but follow up with some information about the upper body. The upper body can be used for easy-to-identify turbulence, strength, playfulness, and movement style. Just make sure that you are educating your clients accurately to get the "biggest bang" for their exercise "buck".
Arm yourself with information to share with your clients. If anatomy isn't your strong suit, take time to review it on a regular basis. You could take an anatomy class at a local college, but it's not necessary. There are great books available that simply describe muscles and their usage. I particularly like "Anatomy of Movement Exercises" by Blandine Calais-Germain and Andree Lamotte.
Upper Body Musculature Review
Shoulder
Shoulder Movements using sternoclavicular, acromioclavicular and glenohumeral joints:

Action
Muscle
Flexion
biceps brachii, pectoralis major, anterior deltoid and coracobrachialis.
Extension
posterior deltoid, latissimus dorsi, teres major.
Abduction
supraspinatus, medial deltoid, trapezius, serratus anterior.
Adduction
pectoralis major latissimus dorsi, teres major.
Medial rotation
subscapularis, pectoralis major, latissimus dorsi, teres major, anterior deltoid.
Lateral rotation
sinfraspinatus, teres minor.
Shoulder Girdle Movements (involving the clavicle and scapula)

Action
Muscle
Flexion
serratus anterior, pectoralis minor.
Extension
rhomboids, trapezius, levator scapulae.
Elevation
rhomboids, trapezius, levator scapulae.
Depression
trapezius, pectoralis minor.
Downward rotation
rhomboids, pectoralis minor, levator scapulae.
Retraction
infraspinatus, teres minor, teres major.
Protraction
serratus anterior.
Arm
Elbow movements

Action
Muscle
Elbow Flexion
brachialis, biceps brachii, brachioradialis
.
Elbow Extension
triceps brachii, anconeus.
Pronation
pronator teres.
Supination
supinator.
---
About The Author: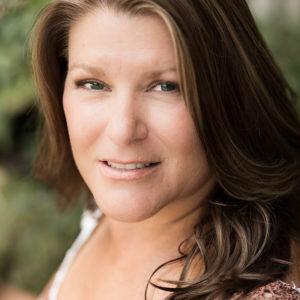 Connie is the choreographer and co-founder of WATERinMOTION®, a faculty member with SCW Fitness Education and certified by ACE, AEA, AFAA, Yoga Fit, Schwinn, Reebok Cycle and Moms in Motion. She has been awarded the Aquatic Exercise Association's Fitness Professional of the Year and is a published author of articles in various trade publications. She has over 30 years of teaching experience in the USA and abroad and is presently teaching in Northern Virginia. She has traveled around the world presenting new and creative workshops to make fitness more accessible, professional and fun.
---
---
---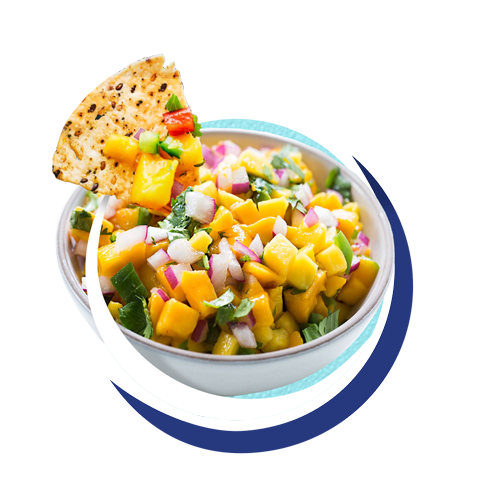 ---
Mango Salsa
with Avocado
by Natasha's Kitchen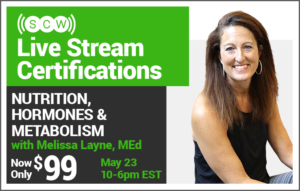 This mango salsa with avocado hits your taste buds in all the right spots; sweet, savory, tangy and fresh. This 5-ingredient mango salsa takes about 5 minutes to prepare and it is perfect served with tortilla chips or as a topping for tacos, tostadas, chicken or fish.
To add some heat to this mango avocado salsa, you can toss in some finely chopped fresh or canned jalapeños. Check out this truly scrumptious and crowd-pleasing family friendly dinner with you which uses this very salsa.
Mango Salsa Ingredients:
1 mango, diced
1 medium avocado, diced
1/ 2 medium red onion, finely chopped
1/2 bunch fresh cilantro, (about 1/2 cup chopped)
Juice of 1 medium lime (about 2 Tbsp)
1/4 tsp salt and pinch of black pepper, or season to taste
How to Make Mango Salsa:

In a medium bowl, combine diced mango, avocado, finely chopped red onion and chopped cilantro.
Squeeze 2 Tbsp of fresh lime juice over the top and sprinkle with salt and pepper to taste. Toss gently to combine and serve. If not serving right away, cover with plastic wrap and refrigerate.
---
---
---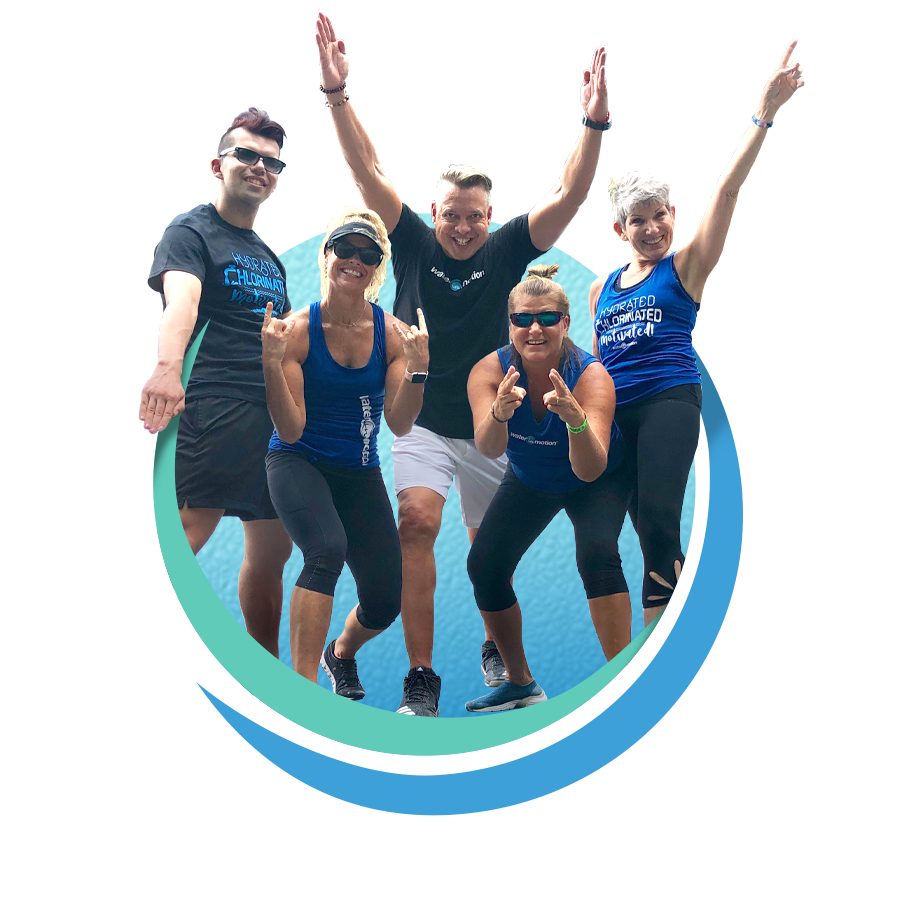 ---
Welcome to Our Newest Clubs & Facilities!
Xfit Womens Fitness Centers – ALRABEA – Saudi Arabia
Xfit Womens Fitness Centers – ALSHEFA- Saudi Arabia
Xfit Womens Fitness Centers – ALSUWAIDI- Saudi Arabia
Fitness 2 Go, West Park Pool, Derrider LA
Highland Springs Senior Living Community, Dallas, TX
Life Time, Johns Creek, GA
Greater SW Family YMCA, Louisville, KY
Roots Aquatics & Fitness Center, Westfield, MA
---
---
---
Give us your feedback on what interests you, and maybe YOU will make it in Tidal Waves!