Meet Our Team
With WATERinMOTION® being the leading program in aquatic fitness, people from different locations and age groups have come together to form a group very dedicated to growing WATERinMOTION® and all that it has to offer. We value each and everyone of our faculty members and what they have done to help WATERinMOTION® become so successful, because without you it simply wouldn't! This is the WATERinMOTION® family—Join us today!
Become a Champion
Become an Instructor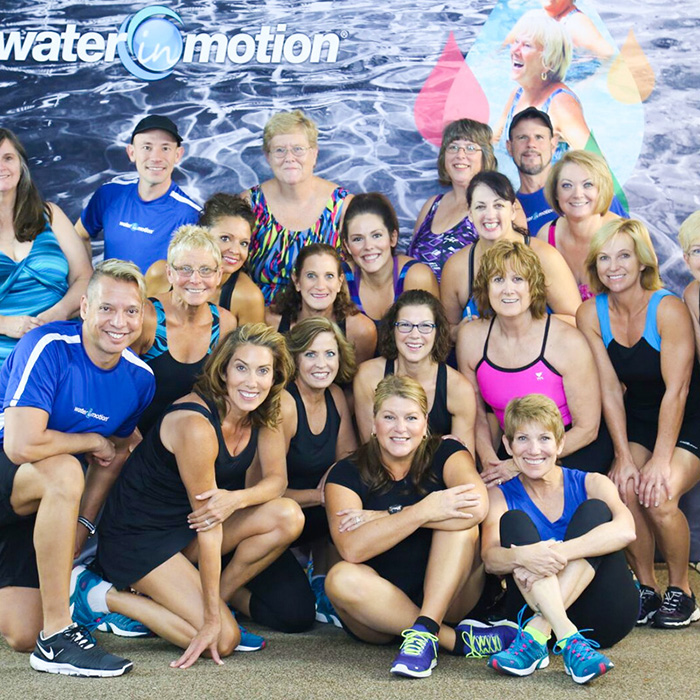 Trainers
---
Connie Warasila
Connie is the choreographer and co-founder of WATERinMOTION®, faculty member with SCW Fitness Education and certified by ACE, AEA, AFAA, Yoga Fit, Schwinn, Reebok Cycle and Moms in Motion. She has been awarded the Aquatic Exercise Association's Fitness Professional of the Year and is a published author of articles in various trade publications. She has over 30 years of teaching experience in the USA and abroad and is presently teaching in Northern Virginia. She has traveled around the world presenting new and creative workshops to make fitness more accessible, professional and fun.
Sara Kooperman, JD
Sara is the owner and Executive Director of SCW Fitness Education and founder of the eight MANIA® Fitness Instructor Training Conventions along with WATERinMOTION®. Sara is an attorney who was selected as a Gold Medal winner distinguishing her as a business leader who has contributed to the economic health of her community. She also received the state honor as Business Woman of the Year. Sara is a former lecturer for ACSM and is the proud recipient of AEA's Global Award for Contribution to the Aquatic Industry. Sara has served on the Gold's Gym Think Tank and has been inducted into the National Fitness Hall of Fame.
Ann Gilbert
Ann is an International Master Trainer for WATERinMOTION® Original and Platinum. She is an owner and operator of two, Shapes Fitness for Women, franchises in the Tampa Bay area. Ann oversees the operations of over 50 Group Fitness professionals and 25 certified Personal Trainers, and coordinates fee-based group personal training programs. Ann is a faculty member of The Shapes Fitness Academy, leading Educational workshops for the Franchise chain nationwide. Ann teaches the popular Launch Program, designed to mentor new trainers into the growing business of Personal Training. She was awarded ACE / IHRSA Personal Trainer of the Year and has been a popular speaker at Club Industry, SCW MANIA®, IAFC and IHRSA Conventions for decades.  Ann has written for Fitness magazines, Club Success, Club Solutions, and AKWA, and has been viewed as Tampa's Fitness Expert, on Fox 13's, Good Day Tampa Bay, bi weekly for the past 5 years.  Ann acts as an educational expert for SCW Fitness Education by teaching the following Certifications: Active Aging, The Fundamentals of Aquatic Fitness, The Fundamentals of Group Fitness, and WATERinMOTION®.
Cheri Kulp
Cheri has spent her adult career as an instructor beginning as a special education teacher for 18 years. She has been a group fitness instructor and has been teaching lifeguard classes and swim lessons for over 25 years. Cheri was also previously an aquatics director responsible for training aquatic instructors and lifeguards. As a marathoner, triathlete and winner of two national bodybuilding competitions, she has always had a passion for teaching and fitness and is honored to bring both together as a trainer for WATERinMOTION®. Cheri is currently certified by AEA, AFAA, WATERinMOTION®, Les Mills & the American Red Cross.
Chris Henry
Chris Henry is a WATERinMOTION® Champion and Master Trainer. He has been teaching group exercise since 2007 and WATERinMOTION® since 2011. Chris has been featured in countless videos and is known for his leadership skills and creative abilities. He has worked at ACAC Fitness and Wellness Centers for the past 10 years and managed a team of 75 Group Exercise and Fitness Instructors at their Midlothian, VA, facility. During this time, Chris received ACAC's Lifetime Achievement Award, Leadership Person of the Year and Service Provider of the Year awards. You can catch Chris at several fitness events worldwide and as a regular presenter at SCW MANIA® conventions.
Jen Keet
Jen is a National Trainer and Presenter for WATERinMOTION®. She has numerous certifications and has taught Group Exercise for 19 years. Jen regularly presents for SCW MANIA® events and spends weekends "on the road" teaching, training and inspiring fitness professionals. She holds a Bachelor's Degree in Child Development/Psychology and a Master's Degree in Clinical Psychology. She brings a lot of humor and insight into her classes.
Manuel Velazquez
Manuel is the program director for WATERinMOTION® Platinum a proud Faculty Member for SCW Fitness Education, while being a valued trainer for Hydro-Fit, Bosu, Tabata Bootcamp and Barre Above. He is a WATERinMOTION® National Trainer and a recipient ECA-NYC OBOW All-Around International Presenter of the Year award and has been presenting at fitness conferences worldwide for over two decades. Manuel is a continuing education faculty for SCW, ACE, AFAA, ACSM, AEA, and WATERinMOTION®, and stars in over 50 Fitness Instructor Training Videos. He is an AFAA Team Pro and Examiner, and is a Lead Instructor at the Golden Door Spa in Puerto Rico and is RYT-200 Yoga certified.
Billie Wartenberg
Billie has 28+ years of experience in the fitness industry. She won the 2016 SCW Fitness Idol Competition and is an SCW-certified Personal Trainer and Group Exercise Instructor. Billie has a BA from Grand Canyon University and is a Master Trainer for WATERinMOTION®, Barre Above™, Tabata Bootcamp™, and LifeTime Fitness. As a former competitive cheerleader, Billie brings high-energy, enthusiasm, and encouragement to her classes. She is also a U-Jam Instructor and the Fitness/Wellness Manager at Trilogy Orlando.
Champions
---
Sibilla Abukhaled-Masini
Sibilla, born and raised in Switzerland, started her fitness career in 2001 in Tampa, Florida. The continuous urge to coach and teach drove her to build a successful personal training career and lead the aqua and fitness department in an all-female gym for 10 years.Teaching aqua has always been special in her heart, so it was no surprise that Water in Motion became her passion when she was introduced to it in 2010. Sibilla would describe herself as a technical and enthusiastic instructor. She is honored and proud to be part of the WATERinMOTION® team.
Mac Carvalho
Mac holds a Bachelors of Science in Physical Education from Bridgewater State University. Starting his fitness career in 2012, he has been featured in several WATERinMOTION® Releases and POP Pilates Official Choreography release. Mac is proud to be a WATERinMOTION® Champion, as well as part of the Tour Crew for POUND. Currently, Mac teaches 20 classes a week at the Old Colony YMCA. Mac is a featured SCW MANIA presenter in Barre, Dance as well at Aqua.
Harley Cofield
I transitioned from a dancer to the fitness industry 4 years ago and have been loving every second of it. I trained under Wave 29, and started participating in WATERinMOTION® filmings with Wave 33. I'm employed at the Cumberland YMCA as a NASM certified personal trainer and group fitness instructor, teaching 10 classes each week. My passion for fitness and my education with marketing/media allows me to help people from all over the world. I am honored to be apart of this industry and the WATERinMOTION® family.
Cheryl Chiappeto
Cheryl Chiapetto has been teaching group exercise classes for 15 years. She is certified with AFAA, Zumba, Silver Sneakers and WATERinMOTION®. Cheryl has a minor in dance and currently coaches and choreographs for the marching band color guards in Springfield, Illinois. She combines technique, her musical background, and passion for fitness to create energetic high-energy classes. One of Cheryl's favorite groups to teach is the beginner level. Cheryl is honored to work as a Champion presenter for WATERinMOTION®.
Betsy Hare
With over 23 years experience in teaching and training in the fitness industry, Betsy is ecstatic to be joining the Water in Motion Champion team. She has been in 10 Water in Motion DVDs. She was the underwater focus in WIM 18 and 19 and in WIM 20, 21, 22, 23, 24, 25 and Platinum 5 and 6. As a competitive ice skater in her youth ,Betsy discovered her passion for fitness and movement. She is certified with Water in Motion, AEA as a group instructor and personal trainer, Burdenko levels 1-7, Hydrorider, ATRI, Hydrofit and the Arthritis Foundation. In addition to her extensive water experience Betsy is also certified with AFAA, Les Mills (Body Pump and CxWorx), Stott pilates, Zumba (Gold, Basic1,2, Aqua), NETA,Yogafit, Silver sneakers, and Tabata Boot camp. When not pursuing fitness endeavors , Betsy is a practicing ARCB certified Reflexologist. She holds a B.S from Boston College and an M.S. From SUNY Buffalo. Betsy is the lead Aquatic Fitness trainer at the JCC of Greater Buffalo in Getzville, NY
Minda Kjar
Minda is a WATERinMOTION® Presenter and Trainer. She has appeared in many WATERinMOTION® DVDs and has been teaching WATERinMOTION® for the past 5 years. She has been a certified fitness professional for over 9 years with a focus on aquatic exercise. She is certified through SCW, AEA, ACE, AFAA, Hydro Pilates, WATERinMOTION® and is a Les Mills BODYVIVE® instructor. Minda is a strong supporter of Donate Life for organ and tissue donation awareness.
Susan Masciello
Fitness is Susan's second career after 38 years in the financial services industry. She is an AFAA certified personal trainer and group fitness instructor. She also holds Aqua certifications from SCW, AEA, and FiTour. Susan has been teaching Aqua fitness since 2011 in Tampa Florida. In August of 2012, she was certified in Water In Motion. She also teaches land classes for active aging Boomers. Susan is proud to be part of the Water in Motion family as a Champion. You can see Susan as a pool participant in several of the WIM training videos.
Bryan Miller
Bryan is a proud member of the WATERinMOTION® family, having participated in all but two filmings since Wave 15. He is an AEA certified aquatic professional, and ACE certified group fitness instructor and personal trainer. Bryan has been teaching group fitness since 2011, and his passion for his classes and students come through with his enthusiastic and expressive style.
Joni O'Neil
After years of teaching group fitness classes "on the side" Joni's passion for fitness and health promotion in the community migrated into the work place and she transitioned from full time Clinical Nursing to full time health, fitness and wellness promotion for the hospital. Currently she is the Health/Fitness supervisor for Stillwater Medical Center's Total Health/Total Fitness Aquatics. Along with managing fitness staff and programing she continues to teach classes and do community presentations focusing on the active aging population. A group fitness instructor since 2006 certified with AFAA, SCW (Water In Motion, Aquatic Instructor, Active Aging) Zumba (Aqua, Kids, Toning), Exercise Safety Association and is a Certified Pool Operator.
Jessica Pinkowski
Growing up in family operated dance studios and teaching classes at an early age helped develop Jessica's musicality and skill to choreograph mindful movement for all ages. She transitioned into the fitness industry in 1996 building 20 years of experience leading group wellness classes and specializing in functional movement for active aging adults. She is currently the Group Fitness Supervisor for "On Top of the World Communities" and "The Ranch Fitness Center and Spa" located in Ocala, Florida.
Katrina Ptakowski
Katrina is the WATERinMOTION® Project Manager. She holds a Bachelor of Science degree in Sports Management with a Minor in Business Administration. Katrina has been involved in Aquatics for 22 years and becoming a WATERinMOTION® teacher and Aqua Fitness Supervisor has been life changing for her. She has participated in the March 2019 live filming, and watched her classes triple in size. Katrina currently holds certifications in AEA, SCW (Aquatic Exercise, Aqua Barre, and WATERinMOTION®), ZUMBA- Aqua, Toning, Step, Kids and American Red Cross.
Robin Taylor
Having taught Aquatic Fitness for over 12 years, Robin is AEA and AFAA certified. Teaching at Suncoast YMCA and Bryan Glazer Family Jewish Community Center in Tampa, she leads variety of aqua and senior programs. Her energy, passion and dedication keep her classes filled.  She is a black belt in Isshinryu Karate, enjoys running, and has participated in several WIM filmings, as both a pool participant and on-deck presenter.
Sara Vandenberg
Sara has been teaching in the fitness industry since 2010. She grew up dancing competitively which lead her towards teaching fitness in her adult life. Sara is a fitness instructor at the YMCA of Cass & Clay Counties, North Dakota State University Wellness Center and Family Wellness in Fargo. In addition to being a WATERinMOTION Champion, Sara teaches Les Mills and Beachbody formats, is a master trainer for Beachbody LIVE and is an ACE certified group fitness instructor. She is also a certified Paddle Into Fitness instructor and teaches on indoor inflatable BOGA mats.